Guide to Buying Bespoke Decking
December 9th, 2021 by
admin
With the right installation, you can completely transform the outside space of your home. Having a decking that you can use all year round makes all the difference. As well as providing a fantastic entertainment space, deck boards are a great way of enhancing your space.
At Fitrite our blog this week looks into how to find the right deck boards for your home. Our decking buying guide covers everything from protecting the environment to slip resistant options.
WHAT MATERIAL TO USE
Whether you have decking already or not, you'll need to make a decision on which material to use. Timber is a traditional option and often chosen as it provides a stunning finish. However, PVC decks have become increasingly popular in more recent years.
One of the biggest downsides to timber as a material is high maintenance as well as potential for damage over time. Water and moisture can cause slip hazards on decking, so if you plan on using your garden all year round then PVC decking is the right choice for you.
This type of material needs little to no maintenance, meaning you have less to worry about. Alongside this it is resistance to water and provides slip resistance for those using it, keeping you and those around you safe.
BENEFITS OF PVC DECKING
As a long-lasting option, with PVC decking you could have your deck for somewhere between 10 and 30 years. They do not rot or decay and contain slip resistant qualities.
At Fitrite we offer a 10 year warranty on our decks as well as balustrades, pvc fencing, accessories, aluminium subframes and installation. This gives you complete peace of mind and freedom to use your decking for years to come.
Another huge benefit to PVC is being more eco-conscious with your design and garden renovation. Our deck boards are 100% recyclable and produce 80% less CO2 per ton during the manufacturing process.
FINANCES AND PAYMENTS
One of the main things you may consider when buying decking is how to pay for it. A lot of places may ask for full payments once work is complete. However, we offer flexible payment options.
When you choose to install our decking, you can pay this off over the course of 12 months. We offer a Buy Now, Pay Later scheme as well as a 0% finance offer.
If you do pay in cash then a small deposit will be taken prior to work. This is fully protected by one of the UK's leading organisations who administer Deposit Protection and Guarantee Insurance (Independent Deposit and Guarantee Insurance from IAW).
If you are interested in installing brand new decking in your garden, get in contact with our team. We can talk you through the process and discuss which options are perfect for you.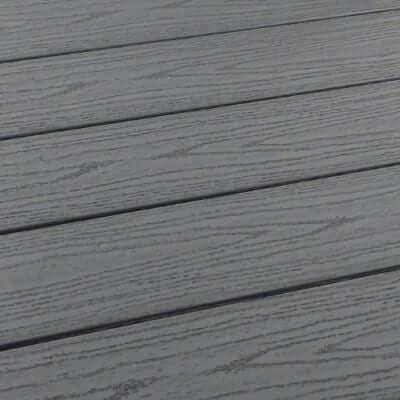 0% Finance for Domestic customers!
We offer 0% finance for our domestic customers. Contact us to find out more.